Hey guys!
I hope you all were able to enjoy the little taste of fall weather we had earlier this week in Houston, I know I loved every minute of it!

I wanted to dedicate this post to a brand I fell in love with, Gal Meets Glam, a collection by Julia Engel. I have been following Julia Engel for some time now and I find her posts to be so inspiring. She has a warm, welcoming smile and a beautiful energy that simply radiates from her photos. She is someone who I aspire to be like , and I just had to try some dresses from her collection!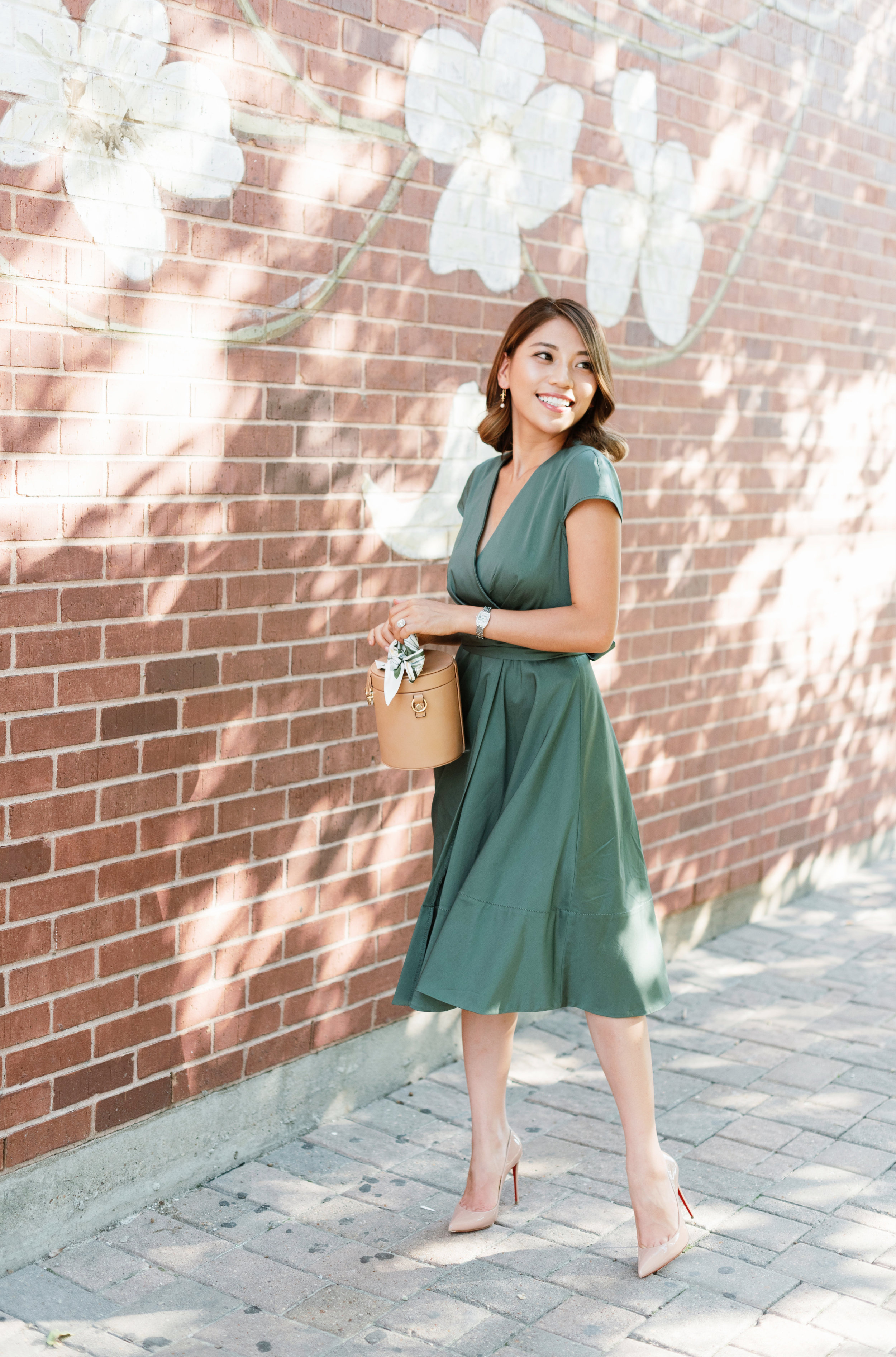 The dress featured in today's post is named the Addison and I ABSOLUTELY adore it!! With the mild Houston weather and the cool green color, this is one of the most versatile dresses I own and it can be worn all year! The fit and flare style of the dress gives it a wonderful flow and swing with every movement. The wrapped belt and bow gives it a flattering feminine touch and although it is designed to be worn in the front, you can switch it up like I did and tie it in the back! I love everything about this dress. It is definitely a must have for the upcoming holiday season, so get it while it's on sale for 40% off at galmeetsglam.com!
I completed my look with Christian Louboutin nude heels, a lovely pair of Beatrixbell earrings (that I scooped up while visiting New Orleans) and a simple and affordable purse from Zara tied with my Mitzah Dior scarf to glam it up!
MITZAH ABCDIOR
Christian Dior's muse Mitzah Bricard continues to inspire Dior creations even today. At her neck, a necklace of fine pearls. At her wrist, a leopard-print silk scarf. It is this iconic accessory we find in this collection, illustrating the emblematic codes of Dior. Discover the A to Z of the history of Dior in twenty-six words and expressions, letters and images displayed like a guessing game - a game which the surrealists, whose art Christian Dior exhibited in his gallery, would certainly have enjoyed. These artists have particularly inspired the Creative Director, Maria Grazia Chiuri. I picked the latter "P" KHAKI SCARF to give my bag a nice contrast in color!
Adding a scarf to any purse is such a fun and easy way to change the look and repurpose the bag, it has become one of my favorite go-to tricks. It's amazing what a little experimenting with accessories can do for a look.
I love the dreamy sunlight that spills over these beautiful flowered walls located at Dog wood Houston. Address: 2403 Bagby St, Houston, TX 77006
If I am being honest, I am always a little skeptical about buying clothes online. I prefer shopping in stores where I can personally feel the fabric and see the quality but let me tell you, Gal Meets Glam did not disappoint! The quality is just as good as some of the most popular higher end brands but the price is unbeatable!
I hope you all are as feeling as inspired I am! Thank you for stopping by and have a wonderful weekend. Talk to you soon!
Xo,
Cynthia